Jetson Necklaces and Earrings
Jetson necklaces will add spice to your life. Cosmic sprinkles of light they pick up color from all directions complimenting every outfit. The beads are each hand formed by Sheila. Using Moretti glass wrapped with dichroic glass. They are then put together with crystals, pearls and semi-precious stones.
To see a juried 5 strand jetson necklace, click here.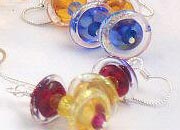 Jetson Earrings
These earrings can compliment any outfit. They are made up of colored "jetson" beads (disks of color with a wrap of dichroic glass on the outside)
Available in a rainbow of colors. Colored Swarovski crystals in complimentary colors, as well as semi-precious stones are added to the mix. We use sterling silver or gold filled findings.

Every effort has been made to reproduce these necklaces accurately for internet viewing. Colors shown may not be a true representation and will appear differently on individual monitors.