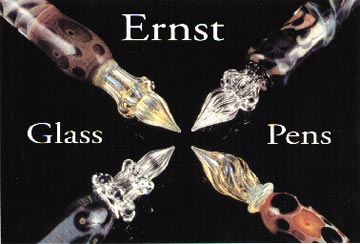 Artistry
by Nancy Olson
World Publications. Reprinted with permission.
The glass pen resides in a category often reserved for the fanciful and fragile. But a little-known fact is that glass pens are serious writing instruments, tracing their centuries-old roots to Italian glass workers.

By the mid-nineteenth century, glass pens were being produced in the eastern US. Far from perfect writers, these pens were gradually improved upon, but public fascination concentrated on the fountain pen. Glass pens enjoyed a brief comeback in the US during the 1920s when "new and different" was as appealing as "tried and true."

Today, most glass pens are made in Europe, but these, according to Michael and Sheila Ernst, can't compare with the creations from their eleven-year-old, Oregon-based company, Ernst Glass pens.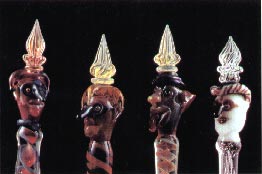 Like many good things in life, Michael Ernst says he "just kind of happened into" it. While taking a nighttime ceramics glass at Paloma College in San Diego County, he stopped in at the neighboring glass-blowing class and decided that it looked like something he wanted to try. That decision in 1972 led to two and one-half years of study followed by a six-month apprenticeship in flame working at a small studio making novelty glass items. A vocation was born.

But it wasn't until 1989 that glass became his full-time work and pens became his focus. With the encouragement of his wife and fellow artist Sheila, Michael spent six months perfecting the intricate design of the Ernst Glass Pens. Working from photographs of European imports, his trial and error method resulted in dip pens made from borosilicate glass which are "more flexible, scratch resistant and heat resistant than regular glass [pens]."

The process of making a glass pen is an intensive one, as Michael explains. "We start with a clear rod of glass and fuse strips of colored glass to the top of that and heat it while spiraling the glass until the whole mass is fused together with even thickness. We lightly attach a smaller glass rod handle and draw it out and shape it, then place it in the kiln to anneal it."

The multitude of steps - requiring several hours for each pen - is carried out in the Ernsts' studio, a barn equipped with oxygen/propane torches, kilns, hand tools and a ventilation fan to minimize the harmful fumes released from hot colored glass. The Ernsts use no molds or machinery in the production of any of their glasswork. Even the sculptural forms on the pens are made using probes, knives, and other hand tools. Molten glass is carefully placed to "build up" areas on the pens, and the hand tools are then used to press indentations in the hot glass to form the sculptures.

Occasionally far from their Oregon studio, the couple has been known to improvise. "We have done extensive work while traveling around the country doing art shows. We set up our torches and work tables at campsites or friends' properties and do our regular production work. We spent seven months in 1995 traveling around the Midwest and the eastern US in our motorhome working and doing art shows," says Sheila, who also flame works glass and does color consultation.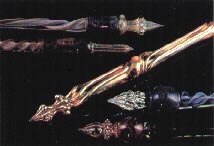 But as any pen lover is quick to point out, the heart of the pen is in the nib. An Ernst glass nib is made from nine rods of glass fused together and drawn out until it is the proper diameter with which to work. It is then fused to the handle of the pen, shaped and again drawn out until it is the correct size. "Then we do the necessary cold finish work, when the piece has cooled down completely," says Michael. The nib is ground and polished just like a metal nib. "We use really fine sandpaper that Michael guards with his life, and then this rouge paper that is just like satin," says Sheila. The result is a smooth - and long - write.

Unlike many glass dip pens which require frequent refueling, Ernst pens have been known to write an entire page with one dip. Sheila heard from a fan who uses one of their pens to document his hospital rounds and another who wrote her doctoral dissertation with one. "Most of the [European] glass pens hold enough ink to write just three or four sentences," she says.

A glass nib uses the same principle of capillary action as other pen nibs. "The ink is held in the flutes on the outside of the nib. [The pen] won't dribble or blotch unless it is shaken, and it will also write with the tip elevated above the handle," they say. The Ernsts claim local and long-time fans. "The majority of our customers appreciate the pens both as objects of beauty and as good writing instruments. But we have [other] customers who collect them and only display them as pieces of art, and some even special order specific designs to add to their collection," says Michael. Ernst glass pens may be found at select stationary stores and art galleries.
Copyright 2000